Naswiz Ionizer Water Purification | Alkaline water
This product listed Free Booking Demo at your home,
If you want to buy this after the demo then you have to pay for this product at its current price.
5 Plate Alkaline Ionizer
Our huge range of offerings is inclusive of PL-B 502 Violet Water Ionizer. This item is greatly recommended to make drinking water cleaner and healthier. For making available this product at market-leading prices, we have earned great recognition in our segment.
Mechanism Of Making Ionized Water
Each water molecule is with positive and negative ions. Remove them requires a process called electrolysis. Purified water is sent to the "electrolyzer".
Here, water is electrolyzed by creating a flow of electric current, where the positive ions, such as sodium, magnesium and calcium are gathered toward the negative pole, making alkaline ionized water, and the negative ions are gathered toward the positive pole, making acidic ionized water.
Acidic water is drained and alkaline ionized water is released through the faucet.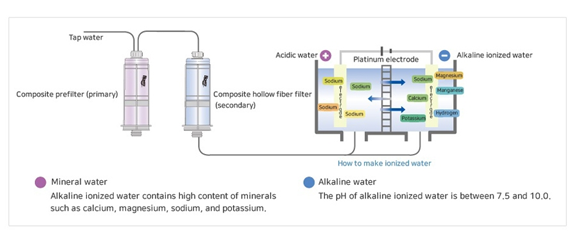 High-performance Composite Filter
The alkaline water ionizer is a class 2 medical equipment approved by KFDA.Electrolyte is achieved by the ionizer to make alkaline ionized water with pH 7.5 to 10.0.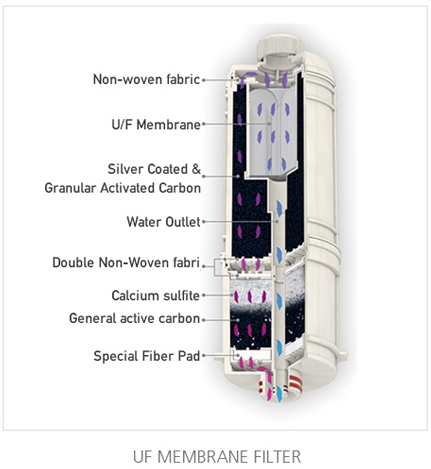 Benefits of NASWIZ Ionized Water
Antioxidant (Anti-Aging)
Detoxifies the Body
Neutralizes Acidity
Boosts Immunity
Hydrates Skin
Weight Loss
Heart Health / Blood Pressure
Digestive Health
Reduces the Muscles and Joint Discomfort
Energized Human Body
Effective Cleansing & Washing
RO Water VS Ionizer Water? Which is Best for our health ? Naswiz Ionizer Alkaline Water | Hindi
Hello Dosto, Kay app Water purifaction mein Ionizer water system ko jante hai Aur Water Ionizer Kaise kaam Krete hai, Kya app ...
Specification:
Naswiz Ionizer Water Purification | Alkaline water
| | |
| --- | --- |
| Electrodes Technology | Platinized- Titanium Smart Design Efficient SOLID Plates Technology |
| Electrolysis Method | Continuous Electrolysis |
| No of Electrodes | 5 Plates |
| Electrode Size(cm) | 7.4cm x 14cm |
| pH Range | Highest pH level : 10.5 pH, Lowest pH level : 4.5 pH |
| Filter Life | 9000 Litres |
| ORP Performance | Up to -500mV ~ |
| Molecular Hydrogen(H2) Performance | Up to 600ppb |
| Filter Type | High performance composite filter with Carbon ,Calcium Sulphite & Non-Woven Fabric |
| Electrolysis stage | 4 Alkaline Levels / 2 Acidic Levels / 1 Purified Level |
| Cleaning Method | DARC (Dual Automatic Reverse Cleaning) |
| Water Flow Rate | 1.5 to 2 litre/min. (Flow indicator displayed on LCD) |
| Rated Power Supply | 110V- 250V, 130 Watt |
| LCD Display Functions | pH Level, Water Flow Rate, Digital Filter Life Indicator |
| Voice Guidance System | Voice Guidance for different Alkaline pH Levels & Acidic pH Levels |
| Water Pressure | 0.7~6.0kgf/cm2 (70~500kPa) |
| Protection Devices | Built in 2 Temp. sensors (Automatic Restoration) & Low water pressure sensor |
| Water Supply | Tap Water /Purified Water (Up to 250TDS with proper Pre filtration Equipment) |
| Operating Temperature | 5-30C.(41-86F) |
| Installation | Suitable for Wall Mount And Table Top |
| Weight | 6 KG |
| Faucet | 180 Degree Adjustment Faucet |
| Dimensions | 280(W) x 360(H) x 155(D) mm |
| Country of Origin | South Korea |
1 review for
Naswiz Ionizer Water Purification | Alkaline water
Only logged in customers who have purchased this product may leave a review.