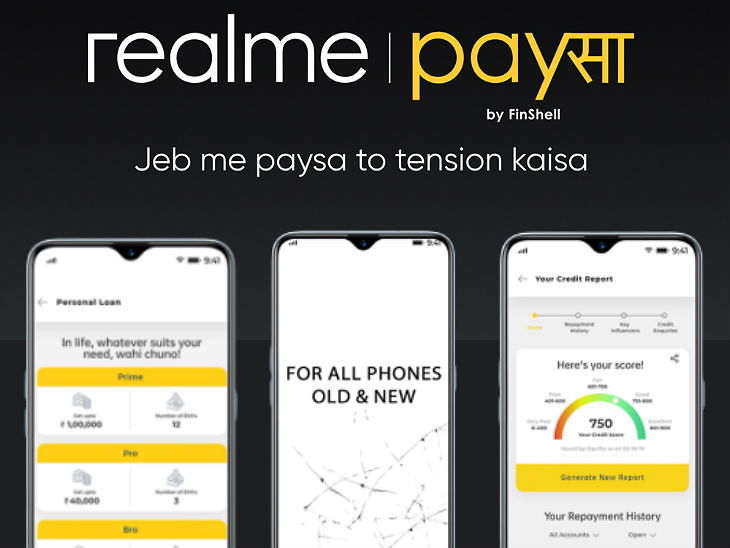 On Tuesday, tech company Realme launched its digital payment service Realme Paisa (Paysa). With this, the company has also entered the financial services segment. The company says that this is the first such full-stake financial service platform. It has been designed in such a way that it will provide loans to small and medium industries of the country including users. The company has partnered with FinTech, a FinTech startup company of Oppo, to provide financial services. Currently, only beta users will be able to use it, soon its Android app will be released, in which facilities like free credit report, screen insurance and personal loans can be availed.
Reality Paisa will challenge Xiaomi's Mi Credit service already in India. MI Credit Service also provides loans of up to one lakh rupees to its users in 5 minutes. Realme will connect users living in Tier-1 and Tier-2 cities but also Tier-4 and Tier-5 cities with this service. Xiaomi is working on a plan to extend MI Credit Service to 19 thousand PIN codes of the country before the end of FY 2019.
First digital payment app that will also provide loans to merchants
Data will be safe
This app will provide many facilities including saving and protection, payment, loan. The company says that the data of all users will be safe in India. Along with this, Human Customer Service will be given to make it user friendly, in which the user will be able to chat in Hindi and English. It will be available for 16 hours a day and seven days a day.
Free credit report
Free credit reports can be viewed on the app. Although the first three reports will be absolutely free, after that the users will have to pay to see the credit report. The company has partnered with Credit Minister for this facility.
Will get a personal loan
Through the app, a loan of 8 thousand to one lakh will be provided to the users in just 5 minutes. The company will transfer the loan amount to the user's account in just 5 minutes. Time will be given from 3 months to 12 months to repay it. The company has partnered with Early Salary for this facility.
Screen insurance
Screen insurance will be provided on all new old smartphones through the app. For this, the company has also taken help of AI technology which will identify it in the event of screen breakdown. Users will be able to claim a maximum of two times for this. The entire process will be completed through the app itself. For this the company has partnered with ICICI Lombard.
Business loan
Loans will also be given to small and medium industries through the Reality Paisa App. Through the app, merchants will be given loans ranging from 50 thousand rupees to 20 lakh rupees. This loan will be provided to traders with digitally and flexible tenure. For this the company has partnered with Lendingkart.