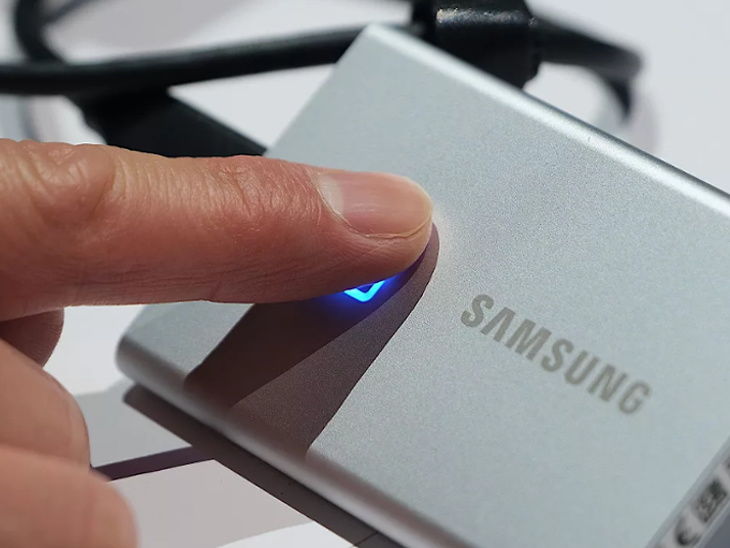 Samsung launched a portable solid-state drive (SSD) with a fingerprint sensor at the ongoing Consumer Electronics Show in Las Vegas. Its model number is SSD T7 Touch. The data of this SSD will remain completely secure, as it can be accessed only after unlocking it with a fingerprint. The company will also launch it in India next month.
Portable SSD T7 Touch Price
Price of 500GB variant Rs. 11,999
Price of 1TB variant Rs. 18,999
Price of 2TB variant Rs. 36,999
SSD data transfer speed
Samsung Portable SSD T7 Touch has reading speed 1,050MBps and writing speed 1,000MBps. The company claims that its data transfer speed is 540MBps as compared to the older model SSD T5. It has a second-generation USB 3.2 port for data transfer. The company will give a 3-year warranty on the hard disk.
The fingerprint sensor given in it for data security has AES 256-bit hardware encryption and password protection function. It has a blue LED motion LED, which is given around the fingerprint sensor. This LED turns on as soon as it is connected to a PC or laptop. Which is an indication that SSD can be used.
Samsung portable SSD T7 Touch has been given aluminum caching. It weighs 58 grams. It supports UASP mode support, USB Type-C to C and USB Type-C to A connectivity and RoHS2. It will be found in black and silver colors.