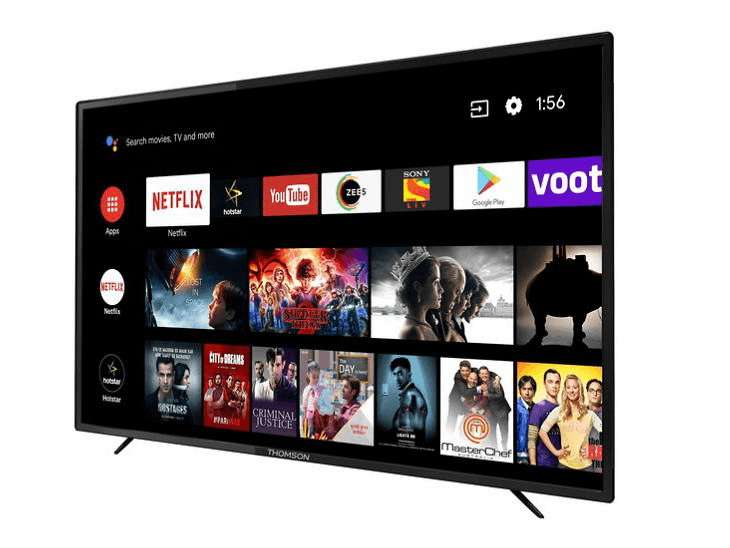 Thomson launched its latest TV range in India. The company has launched its official Android TV range in four screen size options. Their initial price is Rs. 29,999. It is available from 43-inch 65-inch display-sized option. This Smart LED TV is based on the latest version of the official Android TV software, Android version. To trade in India, Thomson has joined hands with Indian company Super Plastronic Pvt. Ltd. It is available for sale on Flipkart.
Variant vice price
Thomson's latest Smart LED TVs have been launched in four screen size options. Its 43-inch version costs Rs 29,999, the 50-inch version costs Rs 34,999, the 55-inch version costs Rs 38,999 and the 65-inch version is priced at Rs 59,999.
All TVs feature 4K resolution LED panels and HDR support. Apart from the official Android TV interface, all TVs also have built-in chromecast features. Simultaneously, it has a 2.5 GB of RAM and 16 GB of storage for app installs.
What is special
Official Android TV is the most popular smart TV interface because it supports many apps and services. It already has many pre-loaded apps, including Google Play Movies, Google Play Music, YouTube, and Netflix.
Apart from this, the user can access the Google Play Store as well as install more than five thousand apps available for Android TV.
Most notably, in its remote, there are dedicated buttons for visiting Google Assistant, Google Play and Netflix.
These TVs of Thomson can only be bought from Flipkart. Even before this, the company has launched the first 40-inch Smart LED TV in the Indian market, which costs Rs 20,999.