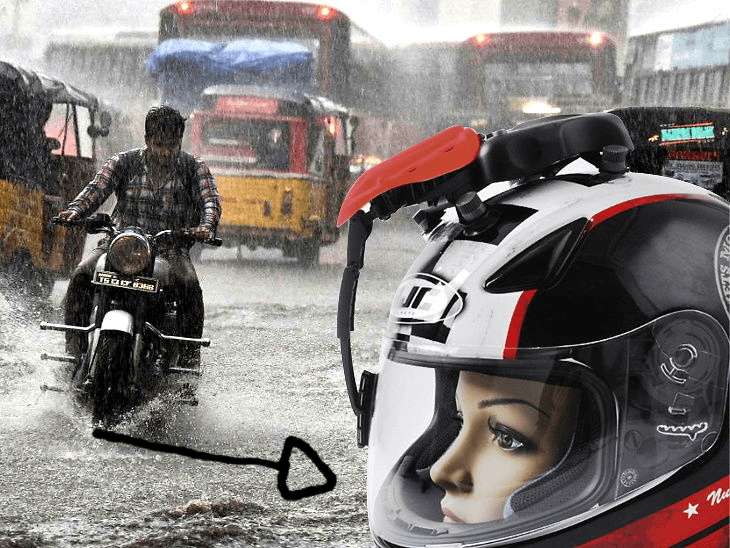 To make the two-wheeler's driving easier in the rainy season, many types of helmets have come in the market now. These helmets are waterproof. At the same time, some have wiper installed, which work to remove water from glass. We are talking about similar helmets and devices here.
Helmet wizard shield wiper
This shield wiper device that can be fixed on any helmet. This device is waterproof. There is a wiper fix, which is controlled from a remote. This is designed with a remote watch, which can reduce the speed of the wiper. The wiper removes the rain drops from the helmet glass. By which the visibility remains and the driving becomes easier. Its price starts at around Rs 8000.
Driving vision for riders
This is a bluetooth device designed by the rayowner company. This device can be fixed in any helmet by connecting to the smartphone. There is a built-in rechargeable battery inside the device, while there is a thin wiper, which removes the water from the helmet glass. Its price is close to Rs 8,300.
Finger helmet wiper
This device is worn in the finger. It is a small wiper which makes the glass water completely clean. The special thing of this device is that it gets completely fixed in the finger, that is, it does not need to wear it repeatedly to remove the water from the helmet. Its online price is 99 rupees.
Waterproof Hands-free Helmet
Model number SBA-1 HF of this helmet of Stilbard Company. Hands-free calling can be done through this. Inside the helmet, there are 2 speakers and Mike. The special thing is that these speakers are operated by the phone's battery. The mic in which it only holds the voice of the rider. If you are listening to music in the helmet then you will hear the outside voice or horn inside. It is completely water and dust proof. The company says that even if it will stay in the water for 6 hours, its speakers and mic will not have anything. Its price is 2589 rupees.