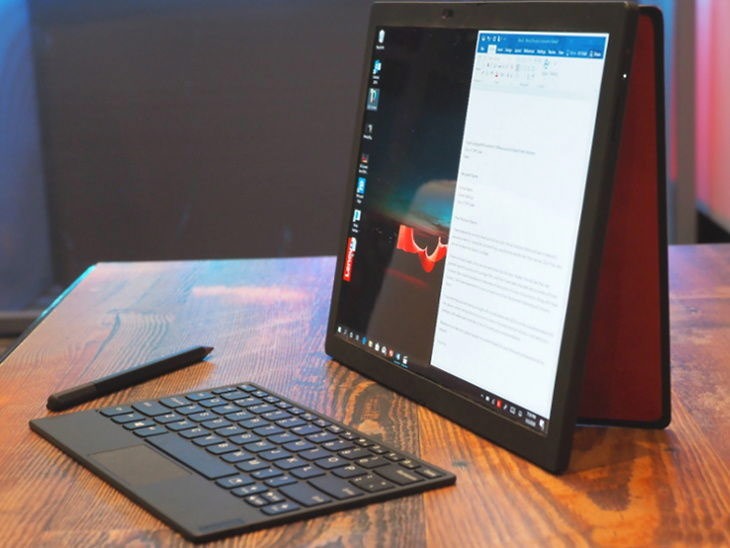 Lenovo has launched the ThinkPad X1 fold at the Consumer Electronics Show (CES 2020) that began in Las Vegas. It is a device similar to a large tablet or laptop. The special thing is that its screen can be folded. The company says that it is also the world's first foldable PC. After folding, it looks like a book or diary. Which can also be carried easily. It can be priced at $ 2,499 (Rs 1,79,466). Its sales can start in the second half of this year.
Lenovo ThinkPad X1 Specification
It has a 13.3-inch folding OLED display screen. This laptop also comes with a Bluetooth keyboard. This keyboard is fixed in the fold screen. At the same time, you can also use it with the unfolded screen. The weight of this device is less than 1 kg. It will run on Microsoft Windows operating system. It will also get 5G connectivity.
It can be used both vertically and horizontally. It has a leather cover over it, as in many diaries. After folding the screen, it also gets a virtual keyboard. It can be folded even after applying the keyboard. It also has a lock / unlock button and volume rockers like the phone. Plates of carbon fiber and mixed alloys have been used in making it. Which makes it stronger.
It has Intel's Lakefield processor. It also works to save battery life with speed.
8GB RAM and 1TB of onboard storage is also provided. It also has 4G / 5G SIM card tray.
It has a fast-charging battery, which gives a backup of 50 hours.
The 5-megapixel webcam is given. Dolby speakers have been given. It has 2 USB C-type ports.
An active pen is also being given. That is, you will be able to do many things like writing, drawing with the help of a pen.
Leather cover also has a kick stand. That is, you can watch a video on it then stand it.