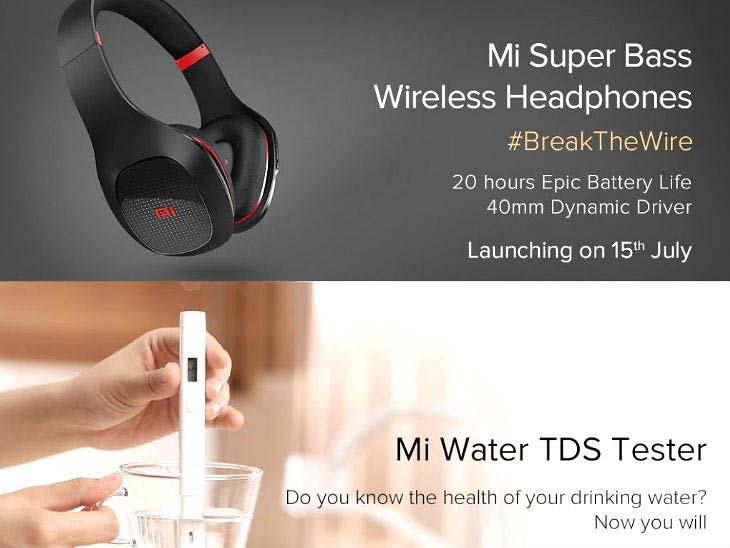 Tech Company Xiaomi will launch its Superbase Wireless Headphones in the Indian market on July 15. Apart from Amazon, it can be purchased from MI dot com. This product is included in the company's official site as the 5th Anniversary Festival Deal of Xiaomi. Other products will also be launched in the Anniversary Celebration. In addition to headphones, MI Water TDS tester is also listed on the official page, whose crowdfunding will begin on July 23. The company will also present its MI rechargeable LED lamp.
The information was given by the company via Twitter
Xiaomi informed via Twitter that his fans will launch the Mi Superbase wireless headphones on July 15 in the Indian market. It can be purchased from MI dot com and amazon from 12 am. It has 20 hours of battery life and 40 mm, dynamic drivers. Other details will be available at the time of launch.
According to MI Turn page 5, the ground TDS tester's ground funding will start from July 23. It checks the purity of the water. TDS tester can measure up to 9990 TDS in a few seconds. Currently, orders for Mi Crowdfunding site Mi Truck Builder Toy are being taken.
According to MI Turn page 5, Xiaomi is also launching many more products, including MI rechargeable lamps which will facilitate three color changes, besides the Fast Charger and New Neckbone Earphones. At present, the company is selling two Fast Charger (36W and 27W USB Charger) in China. One of these fast chargers can be launched in India.
Xiaomi has launched MiBeerd Trimmer on the occasion of 5th Anniversary Celebration. It can be bought from Amazon and MI dot com. Apart from this MI truck builder is available on the company's crowdfunding site, which is worth Rs 1,199.