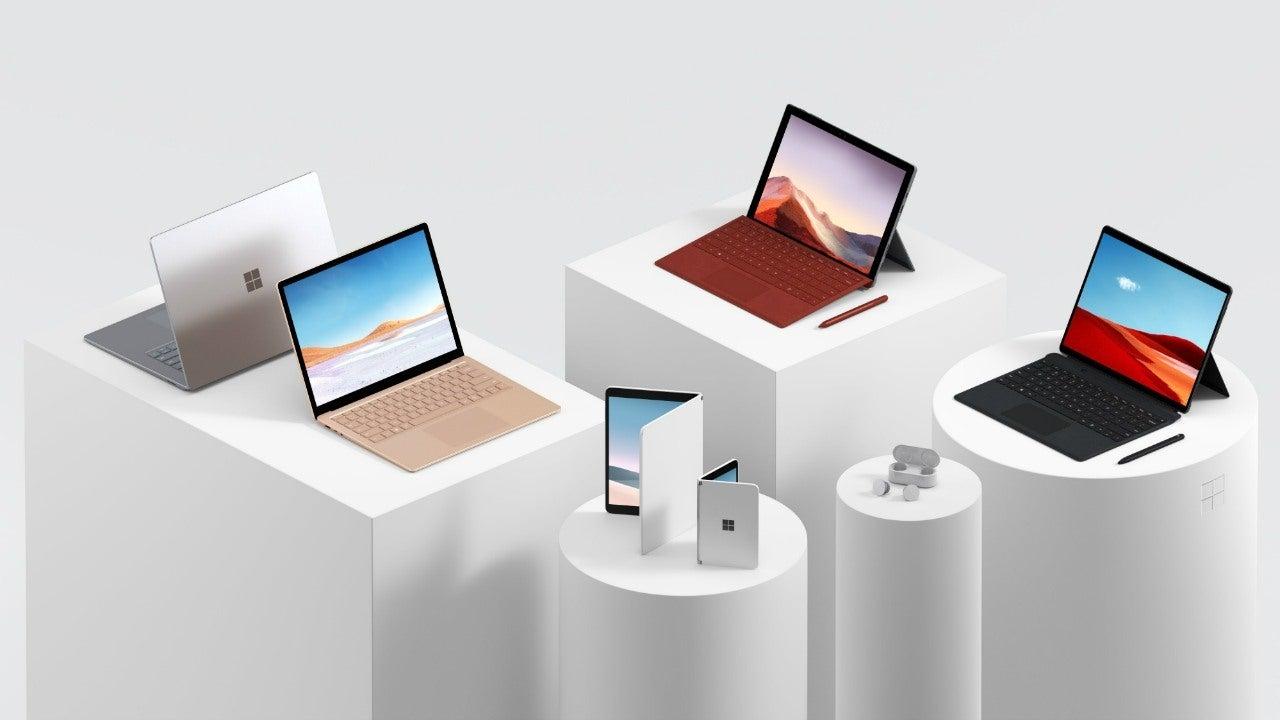 At the Microsoft Hardware event in New York on Wednesday, the company launched 6 new products. Sales of Surface Laptop 3, Surface Pro 7, Surface earbuds and Surface Pro X launched at the event will begin this year. While two new products New Surface Neo and Duo (Dual Screen Tablet) will start selling next year.
Currently, they will be sold in the US
Surface Laptop 3
Price: 71 thousand rupees
Sale starts: October 22 (US)
The new Surface 3 laptop has a USB Type-C port which users have been demanding for a long time. This device will be available in a 13.5 inch and 15-inch display size.
It has a 10th generation Intel Core processor. The company says that this is two times faster than the Surface Laptop 2. It gets all-day battery life, its battery takes less than an hour to be 80% charged.
Its price is 71 thousand rupees and its sale in the US will start from October 22.
Surface Pro 7
Price: 53 thousand rupees
Sale starts: October 22 (US)
Surface 7 Pro
Surface 7 Pro which is 2 in 1 pc. It has the same 12.3-inch display as before. The new Surface 7 Pro will also get a USB Type-C port.
Its internal features have been upgraded already and it will get surface pen support as before.
Many new features will be seen in its software, such as the phone calls feature has been added to its OS, in which the user will be able to call from his Android phone with the help of PC.
Its sale will also start from October 22. Its price is 54 thousand rupees.
Surface earbuds
Price: 17 thousand rupees
Starting sale: 2020 (US)
Surface Pro X
Surface Pro X will also get a thin surface pen which is attached on its keyboard, the user will have to push the keyboard to remove it.
The Surface Pen is automatically charged when the device is mounted. The company says that this device gets GPU power of two Teraflops as well as it is equipped with LTE capability.
The Surface Pro X has a 13-inch screen, with 238 pixels of density. The screen offers 2880×1920 pixel resolution.
It has a custom Microsoft SQ1 chipset which produces 7W power along with Qualcomm ARM chipset and AI integration.
The company says that the Pro X is three times more powerful per watt than the Surface Pro 6.
Its price is 71 thousand rupees, its sale will start in mid-November.
Surface Neo and Duo
Start selling: 2020
Surface Neo
The company has showcased its future plans with Surface Neo and Duo. The Surface Neo is 5.6mm thin which comes with two screens, these can be folded like a book.
The screen gets Gorilla Glass 5 protection. It has a 360-degree hinge, which connects the two screens together. It also features a Surface Pen, which is magnetically fitted in the back and has an automatic charge.
Its keyboard also magnetically fits on the back panel. It has a custom window 10X designed specifically for dual screens. Intel's Lakefield processor will be found in it.
In the event, the company did not give much information about the Surface Duo, but it looks like a small version of Nia. It will be equipped with Android.
There will also be two screens in which users will be able to do multitasking by doing both screens. Sales of both devices will begin in 2020.
Surface earbuds
Microsoft's new Surface earbuds have two mikes in each bud. It has 24-hour battery life.
It can be used from any platform. It has touch sensors so that the user will be able to navigate music and notifications.
It comes with gesture control as well as multiple taps to open Spotify.
It supports 60 languages ​​as well as Microsoft Office integration.
It costs 17 thousand rupees. Its sales will start from next year.
Surface pro x
Price: 17 thousand rupees
Sale Start: Mid November 2019 (US)