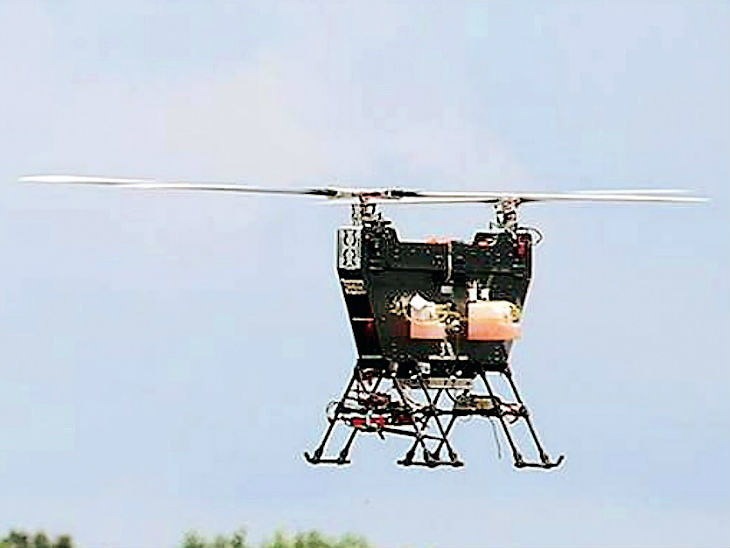 IIT Kanpur has developed new technology to protect crops from pests and outbreaks of diseases. To help the farmers, scientists have created an Agro helicopter drone. It is able to sprinkle pesticides on them by identifying the poor crops present in the fields.
Multi-spectral cameras have been installed in this drone of IIT's Aerospace Engineering Department. Through these, the level of production of disease, pests, and crops can be ascertained by taking stock of the crops' health. Testing of Agro helicopter drone model in IIT Kanpur has been successful. Now the demand of the government and the need of the Agriculture Department will be worked further on this technique.
Abhishek, professor of the aerospace engineering department told that this technique can increase the income of farmers by reducing the loss of crop. Artificial Intelligence has been used in it, it will only sprinkle in that place where there are pest and disease. It will identify diseases and insects by color and size. However, if required, it can also be sprayed through the entire field. According to the professor, due to the high-tech camera being able to see the color reflection on the drone, the nature of the agricultural survey has changed. He said that a 4.4 kW engine has been installed in the drone. The blades in the drone through the motor keep them balanced in the air. The drone can be transported to ten-kilogram pesticides at one time for spraying. It can be flown to both remote and computer.
A drone will sprinkle with on an image in 5 liters of petrol for two hours
It creates a large image of the fields by the photography of fields from ten to fifteen feet above. This shows that in which part of the farm there is an outbreak of insect or disease and which part is healthy. It has a five-liter petrol tank. With this fuel, it can fly two hours and spray the pesticide with the image. Earlier, making such an image of the fields was possible only from the satellite and there were many challenges to use, while the small box coming from the drones can now work up to the micro-level.