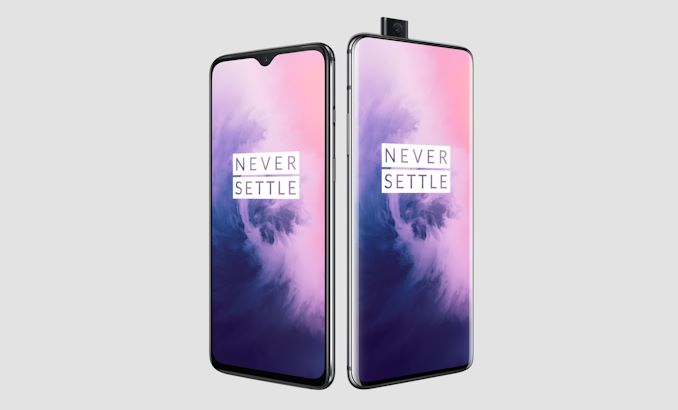 China's company OnePlus has launched two new smartphones OnePlus 7 and OnePlus 7 Pro on Tuesday night after a long wait. These two smartphones are being discussed in the tech industry all the months ago. On the theme of GO Beyond Speed, this time smartphone has given many new features including display, pop up camera and processor. The company started its journey in 2014 with OnePlus One, which has reached OnePlus 7 after 6 years. This company has always designed phones by looking at the needs of the users.
The price of OnePlus 7 starts at 32,999. An earphone of Rs 5,990 is also being provided with the phone. From May 16, the different colors and storage variants of both phones will start getting.
Features of OnePlus 7 and OnePlus 7 Pro
Processor– The new flagship smartphone has 8-core Qualcomm Snapdragon 855 nanometer chipset, which is equipped with 855 Adreno 640 GPU graphics. This time the One Plus smartphone has been introduced with a superior bezel display.
RAM – In addition to the superb high-speed processor, 12GB RAM has been given in OnePlus 7 Pro. Due to the increase in RAM, heavy apps will be loaded into RAM memory instead of ROM memory in the smartphone and hence the phone performance will be fast and smooth.
The battery and speaker-pro version is equipped with a strong battery of 4000 mAh. There is a 3700 mAh battery in OnePlus 7. Dual speakers with Dolby Atmos 3D sound are also given on the phone.
Camera– OnePlus 7 Pro has a triple camera system with a sensor of 48 megapixels. There is also optical image stabilization. Although one of the systems is a deep sensor instead of a camera ultra-wide or telephoto camera. The camera is equipped with ultrashot features HDR Plus and Super Resolution mode. There is a dual camera system in OnePlus 7.
For a selfie camera, both phones have a 16-megapixel shooter, it can record a video of 1080p. The camera features 1080p / 240fps and 720p / 480fps slow-motion mode as well as capturing video of 4K / 60fps (frames per second).
Storage-storage has also been enhanced and the Pro version has been launched with the new UFS 3.0 standard 128GB and 256GB storage capacity. Both phones have 6 GB and 8 GB RAM variants while a 12GB version is also introduced in OnePlus 7 Pro.
Price: In the Indian market, the price of OnePlus 7 is 32,999 rupees and pro version starts from Rs 48,999. OnePlus7 will cost Rs 32,999 (6GB + 128GB) and Rs 37,999 (8GB + 256GB), while the price of three variants of OnePlus7Pro will be Rs 48,999 (6GB + 128GB), 52,999 (8GB + 256GB) and Rs 57,999 (12GB + 256GB) Will be.
After all why the RAM is needed?
Hardware like RAM (RAM: random access memory) is growing rapidly in the smartphone. As far as 2 years ago, from 2GB to 3GB of RAM, it has now reached 8GB to 10GB, but have you ever wondered why more RAM is needed in the phone?
Indeed, when we do any work in the phone, it becomes temporarily safe in the phone. As such, you can play a game, watch movies, make chats, listen to songs, or do any other such work. Some of these temporary files are saved in RAM. If the phone's RAM is low then it will start hanging or its speed will slow down.
What is the advantage of 12GB RAM?
What should be the RAM in the phone, it is also dependent on the use of the phone. Currently Vivo Apex 2019, Touring Phone and Lenovo Z5 Pro GT are getting 12GB RAM, but these phones have not been launched in India. Now let's assume that the new phone of OnePlus is going to get 12GB of RAM, then imagine what will happen to RAM? Understand this thing by 3 points.
Limited storage: 512GB of storage is now available in the phones that are being launched, but companies do not offer the option to insert micro SD card in these phones. The reason for this is the data security of the phone. Actually, the iPhone does not have a memory slot. About this, Tim Cook, CEO of the company, has said that we have not given the option of enhancing memory in the iPhone for Data Safety. This is also true that the iPhone is considered safe compared to Android phones. Now, many companies are giving more storage onboard by removing the memory slot from the phone. If there is more storage then more RAM will be required.
Powerful camera: Triple rear camera will be found in oneplus, this has been decided by the company's teaser. The camera lens will be from which company and the rest will be left to see. In the past year, almost all the companies have upgraded the camera to the phone. Single rear camera is now dual, triple even has changed to four cameras. These cameras are so powerful that the size of a photo is up to 10MB. At the same time, they also have high-quality 4K recording. That is, the 1-minute recording takes 500MB to 1GB of space in the phone. In this case, if the RAM decreased, then the response of the camera also becomes slow.
High Graphics Games: High graphics games are coming to the smartphone. Their size ranges from 1GB to 2GB or more. These games have high graphics, resolution, sound effects. Along with this, they are played online with many people. In such a situation, if the RAM decreases in the phone, then it will hang and the battery will be too hot. For this reason, 12GB RAM may be available in OnePlus.
It's also special in OnePlus
There is a 4000mAh battery and a 30-watt charger in OnePlus. The 30-watt charger allows the phone to be fully charged in just 1 hour. Not only this, in charging 30 minutes, it will charge 80 percent. With it, it can also get a UFS 3.0 storage system. If this happens then this will also be India's first phone to transfer data from this speed. UFS 3.0 is capable of transferring data doubly faster than UFS 2.1. This data extends the transfer speed from 11.6Gbps to 23.2Gbps.