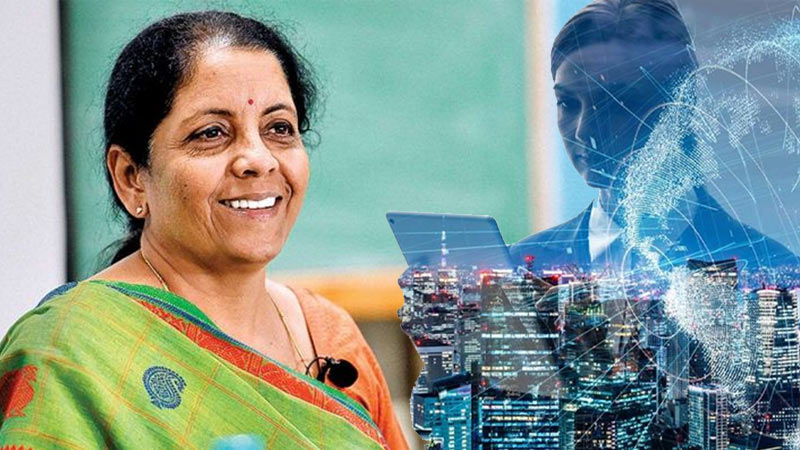 Finance Minister Nirmala Sitharaman presented the General Budget on Saturday, 1 February. In this budget, there was a lot of emphasis on the areas related to 5G services, artificial intelligence, startup, data security, quantum computing and technology. All the big things related to the technology included in this budget are telling.
Quantum Computing: Modi government will spend 8 thousand crore rupees on quantum application in next 5 years. The Ministry of Electronics and IT has entered into an agreement with Israel for joint research in 27 potential areas, including quantum computing. The Finance Minister said that India would be the third largest and leading country to do so when it managed quantum-related computing technology. Quantum technology is also ahead of artificial intelligence. Many experts believe that this computing working on quantum theory of physics has immense possibilities.
Last year, Google had reported that it had succeeded in developing an experimental quantum processor involving quantum computing research. With this processor, such calculations are solved in a few minutes, which even the supercomputer will be able to solve in thousands of years. This research by Google has been published in the scientific journal Nature. In which researchers have written that quantum speedup can be achieved in the real world and no hidden physics principle is applicable for this.
Electronic manufacturing: The government has made it clear in this budget that the manufacturing of mobile phones, electronic equipment and semiconductor in the country will continue on a large scale. Under the Make in India program, the phone manufacturing industry will grow to Rs 1,35,000 crore in the financial year 2019-20, from Rs 94,000 crore in the financial year 2016-17. Along with this, companies like Dixon Technologies, Amber Enterprises, Subros, which manufacture medical devices will benefit. For this, Rs 1480 crore has been given by the government for the National Technical Textile Mission for 2020-21.
Telecom Sector: The government will spend 60 billion rupees (about 6000 crores) on Bharat Broadband Network Limited in the next financial year. Bharat Net is a broadband program reaching every village in the country. It is believed that Reliance Industries and HFCL Limited may benefit from this.
IT firm: After the announcement of allowing the private sector to build a data center, all IT firms can benefit from it. That means TCS, Infosys, Wipro, HCL Technologies, Tech Mahindra as well as mid-sized firms like LTI, Mindtree, Persistent and Hexaware. On the other hand, Adani Enterprises may also benefit from this.