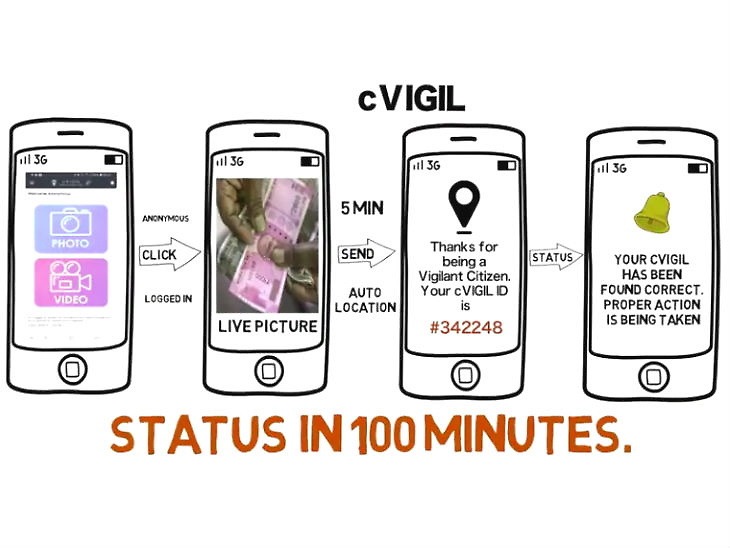 Election Commission has introduced the cVIGIL app for the whole of India to empower the citizens during the Lok Sabha elections. Through this app, the voters will be able to send their information through the photo and video to the election officials after violation of the Code of Conduct. Claims that the complaint will be resolved within 100 minutes if it is found correct. Even before this app has been under the pilot project in the assembly elections in Chhattisgarh, Madhya Pradesh, Mizoram and Rajasthan.
Chief Election Commissioner Sunil Arora said that the Android based cVIGIL mobile app is very easy to use. Users can upload photos and videos up to two minutes in the app, but before uploading, the user will be briefed about the event briefly. If the user wants to keep his identity confidential, then this feature is also available in the app.
These complaints will be allocated to the Flying Squad Team through the District Control Room, Geographic Information System (GIS). It must be resolved within 100 minutes by the authorities.
How cVIGIL app will work …
Users can upload photos or up to 2 minutes of video app to provide information on violation of the Code of Conduct.
Before uploading a photo or video, the brief information of the event must also be given to the user.
After the upload, the user will get a unique ID, through which he can track Follow Up on mobile. During this process, the identity of the complaining user will be kept confidential.
Allows the app to upload previously recorded videos or photos, so that the app can be prevented from being misused.
Apart from this, the video or photo recorded through the cVIGIL app will not be saved in the phone gallery.
During the Code of Conduct, anyone can share any unlawful document, corruption and dispute statements from the leaders on behalf of this app through this app.