Jio Gigafiber broadband service was announced in the annual general meeting of Reliance Industries in July. Registration for Jio GigaFiber has been going on since August and the company's broadband service is still in the testing phase. Reliance Geo GigaFiber will be competing with Airtel's V-Fiber and BSNL FTTH broadband. Geo Gigafiber, led by Mukesh Ambani, is preparing to create a public rollout in the broadband segment.
Only after the announcement of Jo GigaFiber, the government telecom company Bharat Sanchar Nigam Limited (BSNL) and Airtel-V Fiber have made changes in the prices of their broadband plans. Jio GigaFiber FTTH service plans have not yet been disclosed, but the company has offered a live preview offer. Learn how Geo Giga fiber, Airtel-V fiber and BSNL broadband plans contradict each other.
BSNL broadband
BSNL has around 93 lakh broadband users. The company offers 750 GB data every month with 100Mbps speed. After the data is over, the speed decreases to 2Mbps. The price of this plan of BSNL is Rs 1,277. Apart from this, there is also a plan of 777 rupees in which 500 GB data is available with speed of 50Mbps. There should be no activation and installation charge for the BSNL broadband service. However, along with one-time security fee, an ADSL Wi-Fi modem charge for BSNL broadband connection is also to be given.
Airtel V-Fiber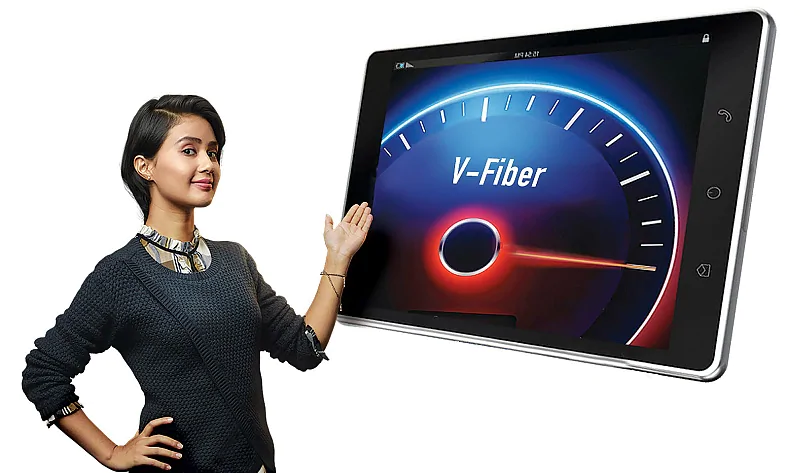 Airtel V-Fiber or Airtel broadband is the second largest company in the broadband industry. The company has been providing its broadband services in Delhi / NCR, Chennai, Mumbai, Bangalore, Ahmedabad, Bhopal, Hyderabad, Pune and Indore. Airtel V-Fiber
Separate from BSNL is limited to these cities, where the company had implemented the company's network transformation program called 'Project Leap'.
Talking about the price of Airtel Broadband, Airtel's 799 rupee broadband plan offers 100 GB data every month. The data speed is 40Mbps and there is also unlimited voice calling facility.
The company also has plans of Rs 1,299 and Rs 1,999 (Gurgram Circle). In the Rs 1,299, we get 500 GB data with 100Mbps, while there is an option of unlimited data with this speed at Rs 1,999. Airtel is offering Amazon Prime Subscription with a free router for subscribers. Maximum 10 devices can be connected simultaneously with Airtel-V fiber.
Jio GigaFiber
The Jio GigaFiber FTTH broadband service has been announced a few months ago. Now there is no information about the reach of this service to the general public. Neither the company has officially disclosed any plans. Reliance Jio has also partnered with Hathway and DEN Network. The intention of the company is to make Jio GigaFiber service available at the earliest in the country.
Talk about the Reliance Jio GegaFibar preview offer, then new subscribers will get 100 GB data every month for the first three months at 100Mbps. After the month limit expires, users can find additional data on recharging from Jio.com. Users will have to deposit a refundable security deposit of Rs 4,500 for Jio GigaFiber Router and Jio TV Router to get Jio GigaFiber connections.
Speaking of Jio GigaFiber Plan and Price, reports have often found that Reliance Jio's broadband plan will start from at least 500 rupees.