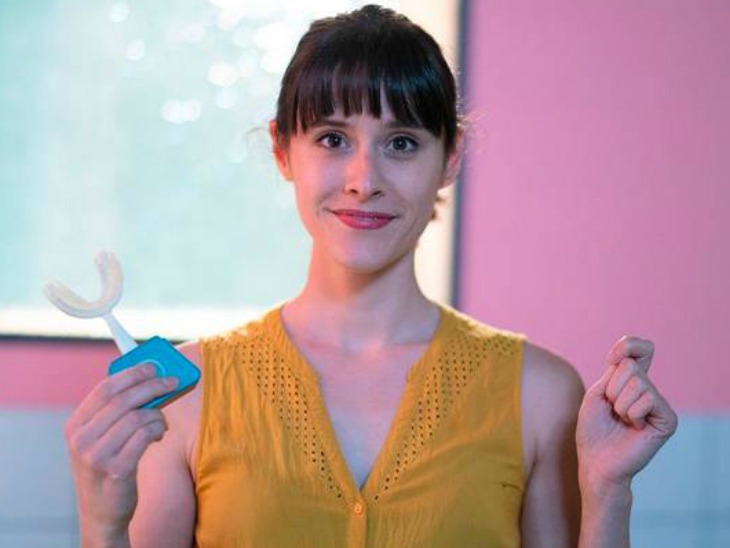 In the four-day Consumer Electronic Show (CES) in Las Vegas, USA, the French company Fastish (FasTeesH) has introduced an electric toothbrush with a new Y-shaped design, which in exactly 10 seconds Will clear from. According to the company, this smart toothbrush can be fitted in tooth, after which only teeth can be cleared by pressing the button. This toothbrush is vibrate and cleans teeth.
15% more germs will remove from moth toothbrush
In this toothbrush made of Y shap, the bristles of small nylon are engaged. Its special thing is that it has been designed in such a way that it fits easily into teeth. 
This toothbrush has to fit toothpaste, first 5 seconds lower tooth and next 5 seconds to upper teeth. After this, after pressing the power button, it vibrates and teeth are cleared.
This way the toothbrush clears teeth in just 10 seconds, while the dentist recommends toothbrush for at least 2 minutes daily. However, the company claims that the toothbrush will clean the teeth more quickly than normal brushes, but it is also capable of clearing 15% more germs.
9 thousand rupees, its price will be sold from April
The price of this smart toothbrush is also many times more than the common brush. The company has priced it 125 dollars (about 9 thousand rupees), which will start selling in April this year.
This toothbrush, made of soft plastic, has been designed by keeping children's teeth in front of the grooves. This brush has to be charged.
[amazon_link asins='B07KSWBBWF,B07KSXHBY1′ template='ProductCarousel' store='sevensenseads-21′ marketplace='IN' link_id='81ebb123-bcbd-4c26-846a-159c4788c342′]

Replacement of toothbrush after 1400 years
The toothbrush of the same design, which we use toothbrush today, has been used for around 1400 years. It is believed that in 619 AD, the toothbrush was invented in China. At that time, the people of China used to clean the teeth by placing hairs in the middle of two bamboo sticks.
Even in ancient times, people used to clean the teeth by making neem teeth whitening, which is still used today. However, there are many types of innovations from time to time in toothbrush, but its design has never been changed. Now the toothbrush has been introduced with a new design.