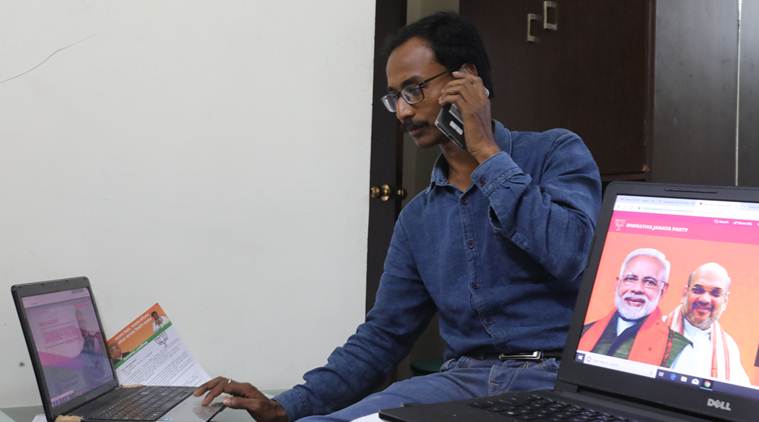 BJP living in Cooch Behar in West Bengal IT cell Officer Deepak Das handle 1,114 Votsaep group together. All the time, Deepak, who has two smartphones and chargers, also handles BJP's Facebook and Twitter pages.
Deepak is a member of 229 groups from one number and 885 WattsAp group from second. Each group consists of 30 to 250 people. According to him, due to TMC terror is not possible to propagate at ground level, and places social media work like a silent weapon, so they are promoting the party through Votsaep groups.
How IT Works In IT Cells
Deepak told how they attract people to party accounts. He says, 'Nobody will follow you, nor will Facebook become friend if you just share the post of the party. I also share important information and important news. I include people in debates in different issues and then share party messages. Deepak told that he helps in spreading the message and plans of the party through these groups. Whenever the party gives a message, the issue is trended by sharing the post in support of the party in the group. This means that IT cell professionals affect other social media users by becoming common users.
In order to capitalize on the gallantry of the army in the Pakistan Air Strike, the BJP's IT cell had full force. Deepak himself told that he and his team had worked 24 hours a day for air strikes.
Their colleagues are associated with the opposition groups by creating fake accounts, so that they know how to work there. In Deepak's words, 'we have a huge network. Our people keep an eye on all sides, and they send us pictures or videos of scandals of the opposition leaders. Recently, we found the objectionable photo of a local opposition leader, which we did viral. '
Das told that he had joined the BJP in 2014. He was made Block General Secretary. After buying a smartphone in 2015, he started promoting the BJP on social media. This year, the party gave them ten thousand phones and portable chargers.
Das claims that he was trained in the BJP's Kolkata IT cell. Amit Shah was also a session about what to do on social media in a meeting and what should not, in which lamps were included.
Source: DanikBhaskar