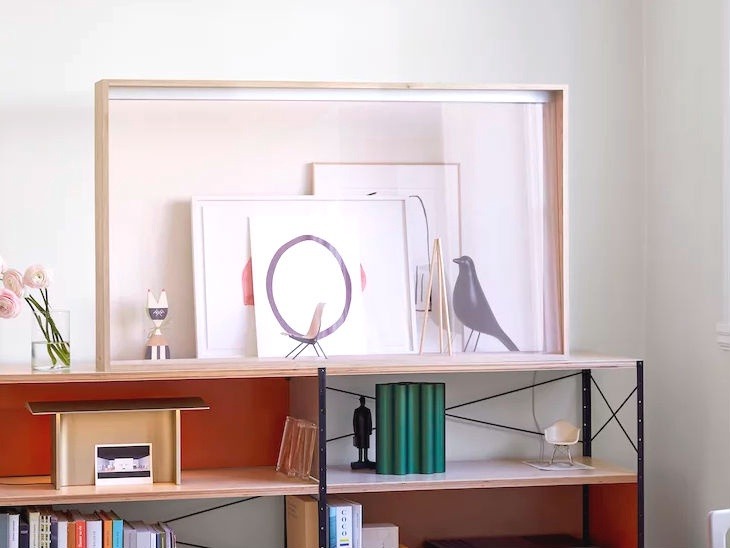 These days, many innovations are being seen in the field of smart TVs. Some companies are offering cheap smart TVs in the market to gain access to customers, while some companies are doing innovation with smart TVs.
In Paris, Milan Design Week in 2019, Panasonic introduced the world's first transporter OLED screen TV 'Vitrine'. It looks like a glass cabinet. Panasonic has designed it with the help of Swis Furniture brand Vitra. It has been fitted in a wooden frame. If not used, this TV can be decorated in the living room.
All electronic elements fit into Wooden frame
Turning on this TV, its screen turns into a vivid OLED display. Its technological component has been fitted perfectly into its Wooden frame, so Wooden Frame works as a stand of TV. Its lighting elements give the user the best experience.
Panasonic and Vitra worked on this idea and technology for almost two years, thinking how the audio-visual device can be contained in the living room.
Michael Schodowitz of Panasonic said that in vitrin, a passive object has been changed into a vibrant and dynamic object, which has changed the view of seeing things. This is a great sample of art and design.
Panasonic presented this innovation on the last day of Milan Design Week 2019. However, the company did not say when it will be launched in the market. After Milan, Vitrin will now be kept for display at Panasonic's New Show Space in Tokyo.
In the show LG also introduced the first rolling TV
In Milan Design Week, LG also introduced the world's first rolling TV signature OLED TV R. The company designed it with the design firm Foster
This rolling TV can be used in three different modes, in which three types of display sizes are available. The company used special techniques to design it. It works according to user's command.