Chinese company Xiaomi is preparing to launch the first smart TV of its sub-brand Redmi. It will get a 70-inch display. The company gave this information through a post on the Chinese site weibo. It can be launched at the Xiaomi event on 29 August in China. On the same day, the company will also launch its Redmi Note 8.
Chinese social media site weibo's post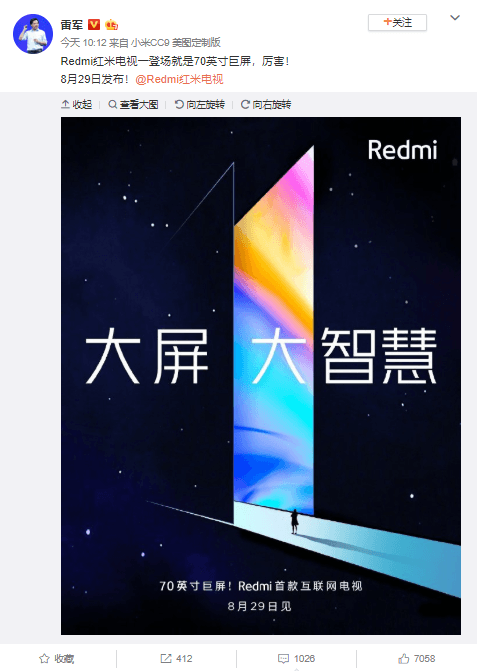 In the post, the company said that the 70-inch display smart TV will be launched on August 29. According to the report, the Redmi Note 8 series smartphone will also be launched on the same day. However, apart from the size and brand, no information has been given about the specification of the TV at the moment. But according to the report, it will be 4K Smart TV, in which HDR 10 and Dolby Vision support can be found.
TVs usually have 65 inch and 75-inch size options. In this case, the 70-inch display is slightly different for the TV segment. Xiaomi's 32-inch to 55-inch smart TV is also available for sale in India. Apart from India, it is also very popular in China, where its TV of all sizes is available. According to the report, on August 29, the company can launch many more devices besides the Redmi TV and Redmi Note 8 smartphone series. At present, Xiaomi is doing its Smart TV business under the Mi brand, but this is the first time that Smart TV is being made under the Redmi brand.