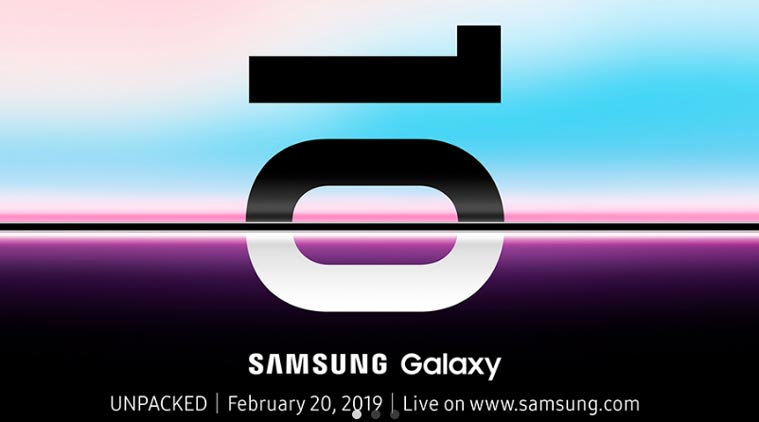 Smartphone companies have started launching their new devices as of 2019. After Huawei and Xiaomi, the news is that South Korean company Samsung is also launching its flagship smartphone Galaxy S10. People of Samsung's smartphone are waiting for a long time. It is expected that Samsung will deliver many great features in its new Galaxy S10.

A few weeks ago, there was rumor that Samsung will present its new smartphone Galaxy S10 in front of the world on February 20, 2019, during an event. However, on these rumors Samsung did not issue any statement at that time. Now Samsung himself has convinced that he is organizing a launch event on February 20, 2019 in the Bill Graham Civic Auditorium in San Francisco, in which the Samsung Galaxy S10 smartphone will be launched. It is being told that Samsung can launch four new smartphones Galaxy S10 E, Galaxy S10 5G, Galaxy S10 and Galaxy S10 + in this launch event.

If you talk about the feature then according to the information available, thin bagels will be given in the top and bottom of the Galaxy S10. According to the leaked news a few days ago, the Samsung Galaxy S10 will have a 6.1-inch screen. With this, the Galaxy S10's entry level variant Galaxy S10E will have a 5.8-inch screen. On the high-end variant Galaxy S10+, a 6.4-inch screen can be given.

[amazon_link asins='B07JMTYMN1,B07J5B663F,B07DJD1Y3Q,B07DJHV6VZ,B07GRXCQQ7,B07DJCJBRD' template='ProductCarousel' store='sevensenseads-21′ marketplace='IN' link_id='6452e200-31c2-4a2a-8654-229b5c33f362′]

With this, it is expected that these smartphones can come with a punch-hole camera setup, which says Samsung Infinity Display. In-display fingerprint sensor can be given in Galaxy S10 and S10+. At the same time, its entry level variant can be placed inside the fingerprint sensor power button in the Galaxy S10E.

For Photography, the Galaxy S10+ can get dual front camera view with four rear camera setup. On the Galaxy S10, a Triple Rear Camera Setup can be set with single front camera.

According to the biggest rumor about this phone so far, Samsung is offering a special technology in this phone's display so that the Galaxy S10's screen will automatically repair itself in case of a scratch. Let us know that in the year 2017, Samsung had given a patent in which this technique was mentioned. Although the technology can be used by Samsung in this device, the company has never given any information.