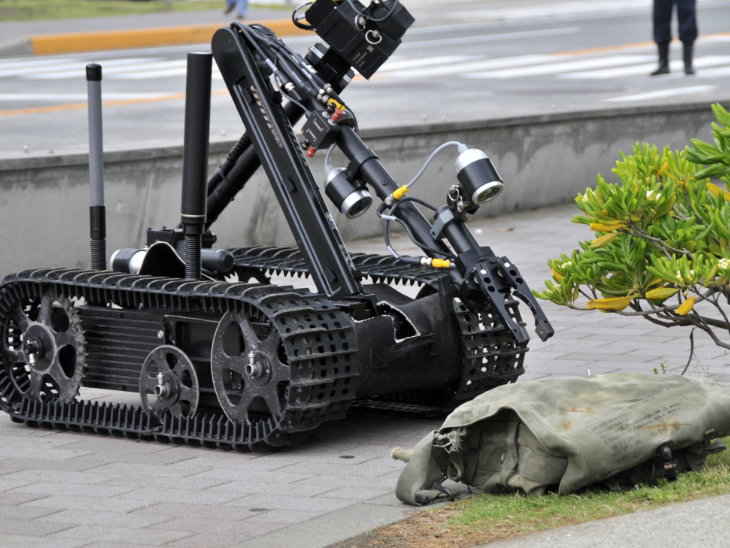 106th Indian Science Congress started in Jalandhar on Thursday. The Bangalore-based Center for Artificial Intelligence and Robotics (Care) presented mini-UGV robot on the first day of the Congress that ran till January 7. These robots will go to hazardous locations and search for bombs or suspicious items. Robots will not need to operate with remote. Along with other robots, it will be able to arrange themselves. The developer said: "This robot has been created by adding camera, sensor, radar and artificial intelligence to remote control robots."
These robots can climb on the stairs
These robots can climb stairs, the water can sprinkle on the explosive, and can bring up suspicious stuff weighing from two to two and a half kilos. DRDO Chairman Satish Reddy told that the trial of the mini-UGV has been successful and its orders will be prepared according to the requirement of security agencies.
Presenting a 10-fold weight plastic bullet from a real bullet
The Defense Research and Development Organization (DRDO) also introduced the plastic bullet developed in the Terminal Ballistic Research Lab (TBRL) in Chandigarh.
Its specialty is that it can be fired only with AK-47 rifles available to every security man. The weight of the plastic bullet is 10 times lower than the actual bullet. The plastic bullet wounds up to a depth of 10-12 mm when it appears, but does not cause a deadly injury. TBRL Director Manjit Singh said that making available to a plastic bullet jawan would be easy. Developing this, Dr. Prince Sharma said that the Home Ministry has demanded one lakh bullets. These bullets are being prepared in the Ordnance Factory in Varangaon, Maharashtra.
Bullet made for anti-hijacking operation
Manjeet Singh, director of the Terminal Ballistic Research Lab (TBRRL), told that special frozen bullets have been developed for the aircraft martial in the lab. It can be used in anti-hijacking operation.
This bullet can kill terrorists or seriously injure them. But if the tablet directly falls in the body of the aircraft, then only a slight blot will come. The aircraft will not have a hole in it. By collision with the aircraft body, the pill powder will be scattered. Special Forces Training School located in Nahan (Himachal Pradesh) has asked DBRL to provide 50 thousand bullets.