Growing craze of smartphone photography has deep impact on the camera industry. According to a report by the Japan-based industry group 'Camera and Imaging Products Association (CIPA), the camera sales in 2010 was about 120 million. Which has decreased by 2017 to 25 million. Sales fell from 80% in 2010 to 2017. According to the CIPA report, compared to 2017, in early 2018 camera sales dropped by 28%. CIPA Group has big brand members like Olympus, Canon and Nicon.
Almost everyone has a smartphone available during the cheap internet era. And every person who has a smartphone, is a photographer in his own right. Even in technology, something new is happening every day, which also improves the quality of the smartphone camera.
In this case, the trend of people is going down on the side of the professional camera. Until a few years ago, people using the camera were called photographers. But today every smartphone user has become a professional photographer. The digital boom in the last few years has a profound impact on the camera industry.
What does sales report say?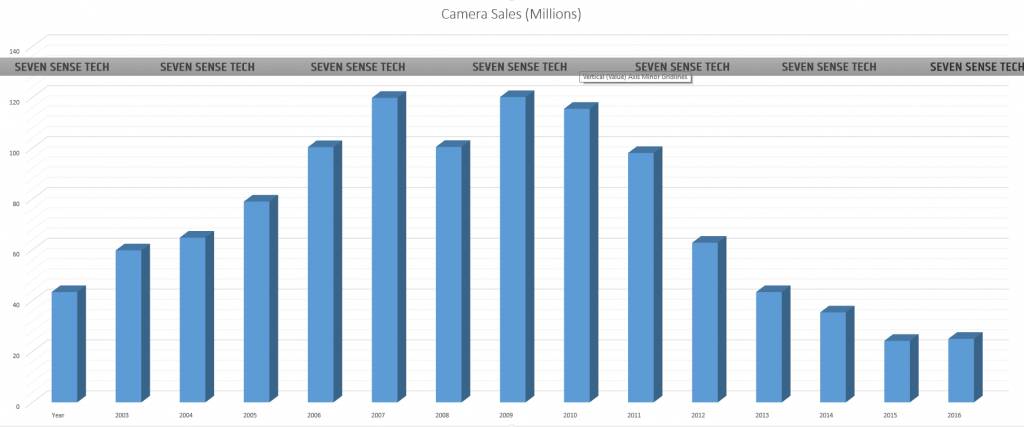 In the year 2003, 43 million units of digital cameras were sold, which included built-in camera cameras and interchangeable lens cameras. Since then, the figure has increased.
In the 2000s the digital camera was on the market boom. 60 million in 2004, 64 million in 2005 and the same figure reached 79 million in 2006.
In the year 2007, 100 million camera units sold worldwide. This increase in sales took place in 2010 when sales touched 121.5 million
After 2010, the impact of Evolution in the smartphone industry began to show on camera sales. The sales figure dropped to 115 million in 2011 and to 98 million in 2012.
There was a huge decline in sales in 2013. 62 million units sold this year The camera has improved due to the technical development in the smartphone since the year 2013. The effect of which was clearly visible in digital camera sales.
In 2014, digital camera sales went up to 43 million, 35 in 2015 and the lowest reached 24 million in 2016. In the year 2017 the figure reached 25 million.