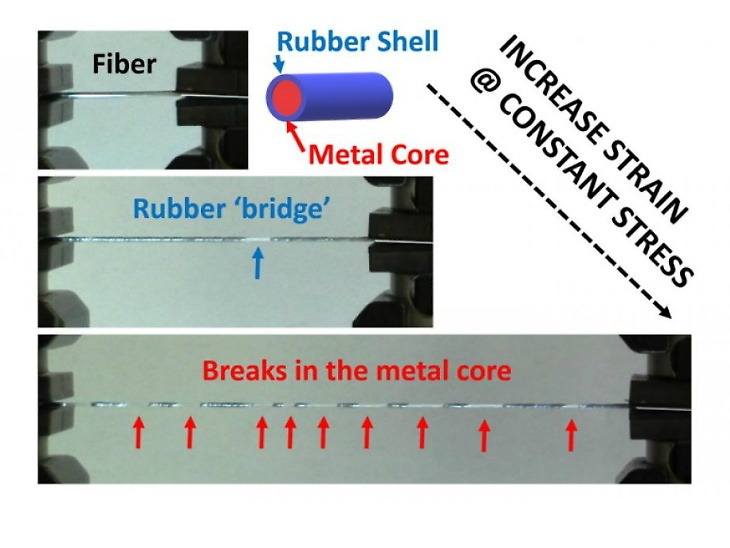 Scientists have developed a fiber that is as strong as metals and resilient like rubber. Researchers from the North Carolina State University of America have prepared this material. In the coming time, it can be used to create soft robots as well as to create packaging materials and next-generation garments.
Gallium metal and elastic polymers are used
To make this fiber, the researchers used the core of gallium metal, around which a shell of elastic polymers was made. When it is stressed, the core of gallium gives it strength. The metal core breaks if there is too much stress. When the metal core breaks, the shell made from polymers starts spreading and prevents the fiber from breaking down. This is the same procedure as the tissue in the human body, with broken bones and does not allow the organs to separate.

Professor Michael Dicky, who works on the project, explains this fiber using rubber band and metal wire. They say that the rubber band can be pulled long enough but it can not bear much pressure. At the same time, more power is required to stretch the metal wire, but it breaks when more dragged. They say that we have made this fiber with the best combination of both.
Due to the high pressure due to the metal core, it spreads comfortably by not spreading like a rubber. Dicky explains that on stretching, it can stretch up to 7 times its original length without broken. According to the research, repeated breakdown of the metal used in fiber is free from energy. In such a situation, its weight is also reduced. Gallium is the electric driver metal. After breakdown due to excess stress, its conduct disappears. In this case, its core can be melted and used again.